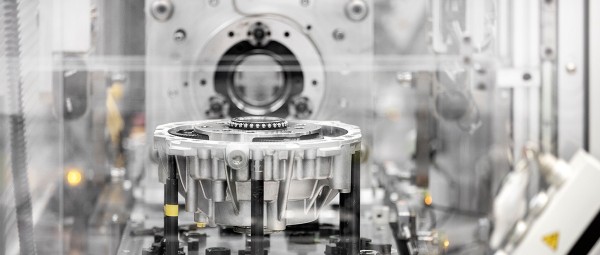 Electrical drive systems in manufacturing
Investment-optimized production concepts for electric drive systems
In recent years, the current transformation process for the electrification of vehicle powertrains has forced automotive companies, from OEMs to suppliers, to develop new products and to apply modern manufacturing processes. Estimates of the proportion of new registrations made up of hybrid and all-electric vehicles predict a market share of up to 80 percent by 2030.
Schaeffler Special Machinery: Your industrialization partner
We offer support for your products and systems making up an electric powertrain, from the first product idea through to fully automated volume production. . In relation to electrified drives, we offer solutions for the assembly, testing and handling of:
Components and complete systems for electric motors, differentials and actuator systems
Dedicated hybrid transmissions
Combined axle systems


2in1 consisting of electric motor and transmission
3in1 consisting of electric motor, transmission and power electronics unit
4in1 consisting of electric motor, transmission, power electronics unit and thermal management system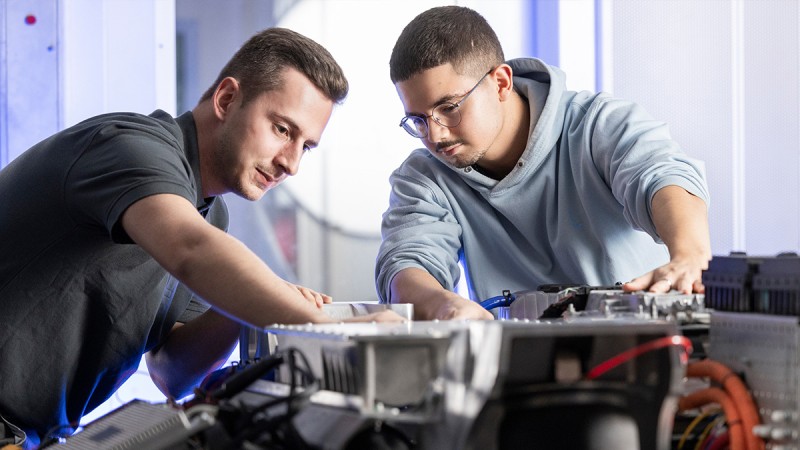 Highlights of our solutions for the assembly and testing of products in an electric drive system
We have mastered the first technical challenges and highlights in various e-mobility projects. We were therefore able to develop a standard portfolio at our worldwide Schaeffler Special Machinery sites. Thanks to its modular design, this can be used individually and to meet different customer requirements.
Flexible assembly and testing system for electric axle drives
Our assembly and testing line for the production of e-axles combines processes for producing the rotor and stator, the electric motor, the differential and the transmission with a final assembly and final performance test. It is designed to handle a capacity of approx. 175,000 units per year. The modular and scalable design enables the expansion or reduction of the assembly line with workstations or processes as required.
Scalable rotor production plant
Our rotor production line is available for both permanent-magnet synchronous motors and asynchronous motors. Different modular types can be produced on a combined line. The scalable production concept adapts to the actual capacity requirements and, thanks to its construction, is flexibly linked to AGV systems in the individual process cells. Among other things, our service portfolio for rotors includes technologies for the punching of lamination stacks, the assembly of compensation washers, as well for as welding and balancing.
HRC application for joining the gear stages
The sensitive properties of cobot systems enable flexible, high-precision joining of gear stages in our production line for electric axles. Our HRC (human-robot collaboration) specialists developed an automated solution with force feedback that enables careful and precise joining. In addition, we were able to reduce activities that are ergonomically stressful for our employees.
Scalable assembly systems
Our specialists develop modular and scalable assembly concepts that optimally adapt to customer requirements – from manual workstations to fully automated high-speed machines.
High-performance testing systems
With more than 1000 machines in the field, our test systems ensure that our customers' high-level product requirements are met. Our portfolio includes, for example, leak, noise, high-voltage or non-destructive testing techniques.
Share Page