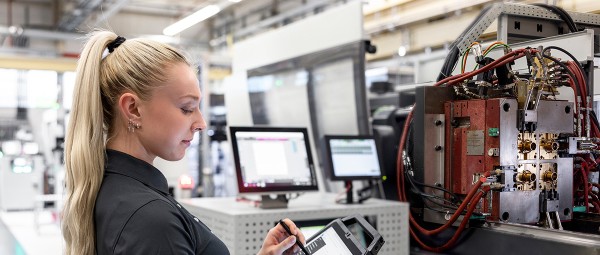 Process control systems for monitoring and controlling industrial processes
Production data processing with our Smart.Control process control system
Smart.Control: Our process control system for your production setup. Do you need a central control component to automate machine processes? Our process control system can be connected to any control system. All production systems are automatically monitored by Smart.Control. Users are informed if malfunctions occur.
Smart.Control is an electronic system for recording, analyzing and ensuring reproducibility of production and product data and offers:
system visualization and diagnostics
control, tracking and documentation of the production process
central data collection for traceability.
Functionalities of Smart.Control
Production control
Smart.Control can be used to control workpieces within individual machines, across entire lines and across systems. Central data collection from the various system functions and machine controls provides the information needed to monitor the process sequences.
Examples of these functions and controls include:
parts list controls
recording of part and batch statuses
regulation of measurement characteristics
connection to AGV systems.
Machine analysis
Machine operating statuses and causes of malfunctions can be recorded, visualized and evaluated by PLC-controlled equipment. The produced parts are recorded and sorted into good, scrap, rework and setup parts. The data are used to analyze machine availability.
Tracking and tracing
The tracking and tracing module makes it possible to display and save the current status of a part in the machine. The entire processing cycle of a workpiece can thus be documented and traced. Production- or batch-specific analyses are also made possible thanks to the recording of quality data.
Type or composition management
Type or composition management enables central job changeover for the machines connected to the control system. It is also possible to maintain and store job-dependent parameter settings. During a changeover, the parameters/compositions and job information stored in the management system are transmitted to the machines.
Report
Reports for different user groups can be retrieved ad hoc from the data collected by the process control system. The web-based display allows flexible access. These reports can also be presented directly on Andon boards for the machines. This provides an up-to-date overview of the machine, its condition, any errors and parts production.
Data exchange with ERP systems
Smart.Control – Schaeffler Special Machinery's process control system
supports all customary standard protocols for machine connection
enables integration and data exchange with ERP systems, FTP servers or file servers
allows higher-level checks to be performed, e.g. by means of QA blocks, SAP-based parts list control, the existence of files such as camera images, external measured values, etc.
Share Page